Roatan, Bay Islands, Honduras - Destination Report - February 2010
Roatan, Honduras, is one of my favorite and most-frequently visited islands, in part because it is a relatively short and affordable trip from Wisconsin. But there are many other reasons.
The dive sites offer interesting topography and ample marine life. The casual observer might suggest otherwise, but one need only be in the water with an observant eye to become acquainted with the multitude of delightful "characters" in these waters. Dive sites such as the signature Mary's Place, Calvin's Crack, Spooky Channel, and Texas Wall provide exceptional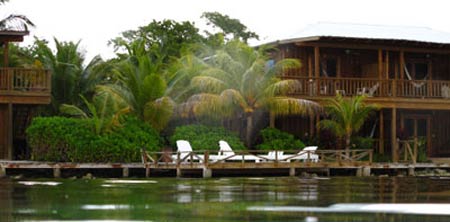 opportunities to enjoy swim-throughs, an other-worldly, shadowy dive, and converging currents and pelagics. Anka's Place provides a stark look at the devastating toll an earthquake takes on the underwater world.
When in Roatan, I stay either at

on the South side of the Island or on the West End, diving with

. There are many other lodging/diving options, some with frequent bring-em-in specials and some with dolphins to dive with, but CoCo View and Coconut Tree best meet my personal preferences. CoCo View Resort boasts one of the highest guest return rates on the Island! The Resort comes with a number of bonuses, including Patti and her staff at

and Tim Blanton at the Dockside

.
CoCo View's house walls, wreck, and front yard dive sites offer the opportunity to eat, sleep, and dive. Air tanks are available day and night and are a part of the dive package. Nitrox is offered at a special weekly rate. Dive equipment storage areas are directly behind each boat; open-air drying racks and lines, as well as camera rinse tanks and gear rinse tanks are available at each boat's storage area. The boats are spacious and well-organized. There are areas on the boat that satisfy the needs of the ardent sun-worshipper and the shade lover. Dive staff will load and assemble your gear daily according to your set-up standards. Dive briefings are thorough and augmented by the colorful, detailed site maps created by Liz Wayne, past Manager of the Resort. Dives are generally an hour in length, sometimes longer when all are experienced divers craving more wetness!
The CoCo View Dive Fleet is equipped with center wells that allow easy, safe access to the boat even in turbulent waters. After the safety stop a diver simply positions himself below the boat and slowly ascends into the center well which is fairly stationary even in heavy seas. From there,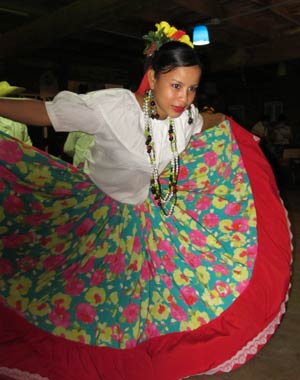 divers can safely hand up their cameras, then lean back against the well wall to remove and hand up their fins. Divemasters await to assist the diver up the ladder and onto the boat. There are also two ladders at the stern should divers prefer that access. The boats are large and provide ample space for gear. A camera table and large camera rinse tub are also available. Fresh fruit is served between dives.
Following a surface interval, divers can choose to return to the Resort or do a drop-off dive on one of the house walls, the Prince Albert wreck, or one of the nearby walls, returning to shore in time for lunch and a bit of relaxation before the 2:00 PM dive. A drop-off dive is an option after the two o'clock boat dive also.
The CoCo View Divemasters/Instructors/Boat Captains are well trained and customer oriented. They are attentive to the inexperienced diver, and allow a respectful degree of independence to experienced divers. They become your friends and ensure that your diving and on-boat experiences are enjoyable.
The over-water and on-shore cabanas are spacious and comfortable. The rooms are air conditioned, and 5-gallon bottles of drinking water are provided. New beds, dressers, and decor have been added in recent years. Each room has a porch/deck, ocean view, and hammock. Drying lines are available near each unit. A number of other decks are available for socializing with your new diving friends.
Meals are served from 7:00-8:30 AM, 12:00-1:30 PM, and 6:15-7:30 PM. But not to worry if you plan to be diving during mealtime. The vigilant kitchen staff will be happy to make up a plate for you that will be available upon your return. Coffee, lemonade, and hot water for tea and chocolate are available throughout the day. Various treats are served at the bar during Happy Hour. And if you just can't live without that mid-day snack, someone will likely be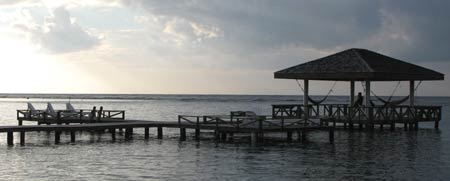 available to make you a sandwich. Meals are served buffet style and the offerings qualify as comfort food. The soups are more-than welcome after the chill of some dives. There are always two main course options, as well as salad and dessert for dinner. Breakfasts can be continental or cooked to your specification - waffles, pancakes, eggs, omelets, etc. You can choose to share your mealtime with friends inside the lodge or al fresco at the dining tables just outside the lodge. There are comfy, cushioned chairs and hammocks available in the lodge, as well as a small book-lending area, board games, ping pong, backgammon, chess, and pool tables, fish identification resources, wireless internet access, jigsaw puzzles, etc., should you find spare time for those activities.
One last thing ... the "no-see-ums" or sand fleas. Yes, they are abundant, and they can be nasty, particularly at dawn and dusk. But they don't need to be a problem to you, if you come prepared. DEET products work effectively; just remember to keep some in your gear locker for a quick spray after your dives and in your room for morning/evening applications. Many of us have had excellent results with a less-toxic repellant - Avon Skin-So-Soft. And there's no need for a "greased pig" application; a scant amount will do the trick. So, it's possible to enjoy a bite-free vacation whether you're visiting for one week or five.
I suspect that I've missed some things, so email me if you have questions.
And may your bubbles always surface before you do.......


February 2010
Trip Report Quick Links