CoCo View Resort - August 2011
If you've read the February 2010 CoCo View Trip Report, you have all the information I can share about this wonderful dive destination. Now enjoy some pictures from the August 2011 Trip.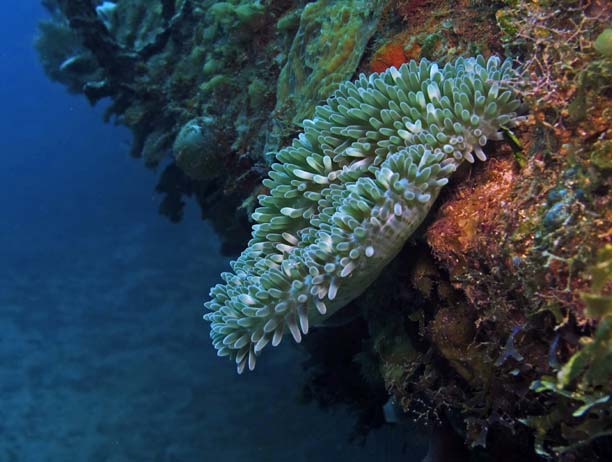 I can't begin the school year without a 2011 final affair with the ocean. So, a return to CoCo View Resort is the answer. Unlimited diving, unlimited friendships, unlimited fun. And, as always, I am not disappointed. The weather, which was unbearably hot and humid just last week, has turned balmy. The humidity is low, the seas are calm, the bright sun warms the chilly diver.
There's a great group at the Resort this week - friends from previous trips, a charming young couple from Finland, new friends, Bear, Mark, and Gary, the regulars who fly over from their Houston homes, Noel - a graduate student catching and tagging turtles as part of her research project, groups from several dive shops in the States, and Gary, a dancing diver who also loves to dance the Two-Step, East Coast Swing, and West Coast Swing. Life is good.
The diving brings us face-to-face with all the usual Roatan creatures. But there are always a few special finds. This trip they included:
a resting nurse shark whose eyes followed our every move
five (yes 5!) seahorses on a single dive
30+ transparent shrimp on the arms of a swimming crinoid
a Triplefin Blenny and a Secretary Blenny fully exposed
a Peacock Flounder swimming a vertical plane
a Toadfish with full-body exposed
Tigertail Sea Cucumbers standing erect and spawning
Absolutely, outstanding! The wonders of these reefs never cease to amaze me.
So, introducing ...... fanfare ........ whoo-hoo ............. Roatan's August Creatures!


August 2011
Trip Report Quick Links