Liberty Dive Resort - Tulamben, Bali, Indonesia - April 2011

Another grueling series of airports, flights, and land travel, but the return to the beautiful island of Bali makes it all worth it. We land in bustling Denpasar and are greeted at the Ngurah Rai International Airport by Ricky, our knowledgeable, hospitable, and engaging driver.

Denpasar, the capital city of the province of Bali, has a population of 788,445 (2010 data). It would appear that they are all driving
today! And most seem to be riding two-wheeled vehicles of one sort or another. Traffic is heavy, congested, and frenetic. Despite bumper-to-bumper auto traffic and bicycles, scooters, and motorbikes carrying whole families and scooting in and out of traffic, there is no road rage or angst. A short, double beep of a horn signals to those around that one is cutting into the traffic. Bemused by the patience of our Balinese driver over our three-hour journey to Tulamben, a journey through and around cities and up and down narrow, winding mountain roads, I commented on Ricky's unfettered calm and good humor as near accidents loomed around each hairpin turn. His response seemed to hold the key to this beautiful culture. "Well, we could get upset or angry, but what good would that do?" Hold that thought!

Finally we arrive at Liberty Dive Resort, Tulamben, and are escorted to our lovely, poolside rooms which are spacious, clean and provide ample storage. Each room has a mini refrigerator,

a combination safe, and a private bath with hot water shower. The pool and courtyard area is bathed in the shade of palm trees and flowering bushes where women skilled in Balinese massage are prepared to offer the epitome of pleasure for $7 per hour. The smell of incense wafts as the meticulously arrayed offerings to the gods are placed in trees near our rooms. We have a quick dinner and Bintang beer in the open air dining room, shoot off a quick email home to report our safe arrival, and collapse in our beds for a deep and renewing sleep.


As the morning sun greets us, we prepare for our first dive. The dive operation is less impressive than other aspects of the resort. There doesn't seem to be any organization or system for dive preparation. Our personal gear is stored in crates randomly, so each
| | |
| --- | --- |
| | |
morning begins with a search through the many crates to find scattered pieces of our equipment. The dive guides did not seem familiar with integrated weights and routinely left tanks standing upright with BCD and weights in place. It was difficult to explain the need to lay tanks down, because the dive guides spoke little English. It was also difficult to communicate why we wanted to personally check or confirm our Nitrox mix. In fairness, the resort was in the process of expansion, so these inconveniences may have been related to that process.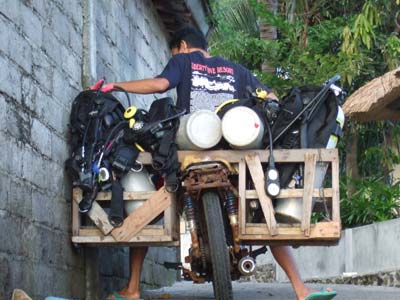 Once gear was assembled, it was loaded (hold your breath) into the side bins of a motor scooter and motored the three blocks or so to the ocean. We followed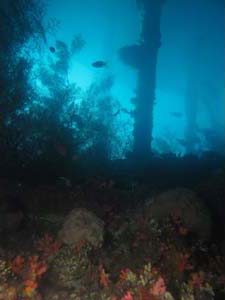 on foot. A scooter ride was offered, of course, but we felt that living another day might be a better option. Our dive guide, while a lovely young man, offered no particular assistance to our group of three and did not assist in finding critters. He simply dove beside us, watching our obsession with all the little things. We learned three days later that there was a shortage of dive guides this particular week, and this young man got thrown into the role without experience. Poor fellow didn't even have a wetsuit that fit, so by the time our trio of 90-minute divers was ready to surface, he was nearly hypothermic. Those frustrations noted, the rest of our dive experience was outstanding. After four days, we were provided with a new dive guide who was beyond fantastic so, problem solved.

The USS Liberty Shipwreck, our first dive site, is Bali's most famous and accessible dive. The armed cargo ship lies just meters from the shoreline and sits on a black sand shelf that slopes
| | |
| --- | --- |
| | |
from 6 to 30 meters. The ship, originally 394 feet long, is one Indonesia's most beautiful artificial reefs. Home to schools of Bumphead Parrotfish, Mantis Shrimp, Anemone Fish, Painted Frogfish, Harlequin Shrimp, Ghost Pipefish, Electric Clams, Devil fish, White-Tip Reef Sharks, Sweetlips, Dragonets, Giant Clams and a mind-boggling kaleidoscope of corals and sponges, I could have happily dived this site every day.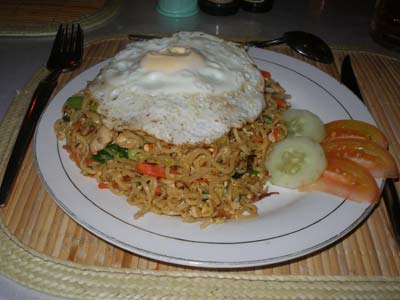 Breakfast was included in our resort/dive package and, for us, followed the morning dive. Several main course and drink options were available, but sometimes what you ordered was not what you received; the language barrier confronted once again.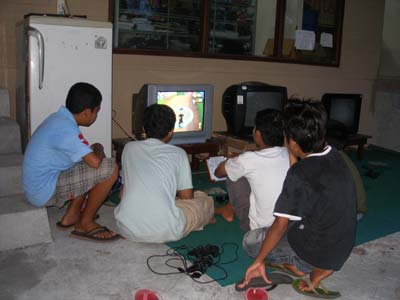 A second morning dive and one or two afternoon dives completed our day. Other dive sites included The Liberty Slope, Coral Garden, Kubu left and Kubu right, Saraya, Villa Marquisey, The Wall, Japanese Wreck, Cafe Garden. We drove by van or truck to dive locations that were not within walking distance. The longest trip being to Amed an hour away. Every site produced new discoveries and a vast array of creatures, coral, and sponges. Current was generally mild. Each of the thirty-five dives was an awe-inspiring adventure.

Evenings included a walk into town that enmeshed us in the beauty of this culture and its people. Women bearing baskets of fruit, children caring for younger siblings, cows being walked to grassy areas to feed, a group of boys sitting outside a store playing video games on a shared television.

We dined often at Wayan's in the upstairs, open-air dining area where the Curry Chicken, Soto Ayam and Greek salads became favorites. A nutritious, satisfying meal could be had for $7.
The Safety Stop was another favorite spot; somewhat pricier, but richer in its local and dive community and its sushi! Alcoholic beverages were imported, so the cost of a glass of wine was
generally more than the meal. Dinner, followed by the walk home, left us just enough energy to turn out the lights.

Aside from the dive set-up area and operation, the only other negative to our Liberty Dive Resort experience was check-out. No one likes last days of course, but this one was made more difficult and our departure delayed because our bills had not been itemized or tallied when we were to check out. And creating these documents was no small task for the management. Twice we returned to our rooms, bags packed and ready to go, because the bills had still not been completed. This delayed our departure, shortened our touring day, and kept our driver waiting for several hours. Certainly not the end of the world, but an inconvenience that could be avoided with just a bit more organization and planning.
Would I return to Liberty Dive Resort? In a minute! This 18-day trip, including our off-gassing days at the Alam Sari Resort in Keliki, and at the Vira Bali Hotel in Denpasar (where a 3-hour SPA service costs $50) cost us about the price of a two week trip to the Caribbean. Amazing!

With a smile on my face and a Balinese song in my heart.


April 2011

Highly recommended tourist activities:
Alam Sari Resort - Keliki

Keliki School of Traditional Balinese Art

Ubud Market - Temple - Art District

Wood Carving Gallery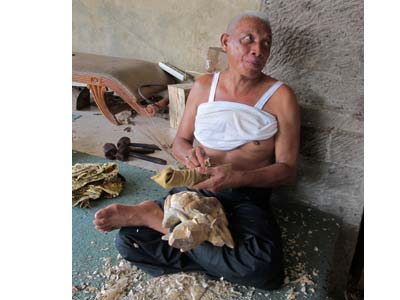 Walking Tour of Keliki Village
Murni's Gorge-Side Restaurant
Trip Report Quick Links