Captain Don's Habitat, Bonaire Netherland Antilles
We have dived the beautiful coral walls of Bonaire many times, staying at mom-and-pop, small, apartment complexes, as well as large, well-known dive venues. This trip we chose Captain Don's Habitat primarily because of an off-season diving special that was too great to overlook. We kept our expectations reasonable – clean rooms, bountiful house reef, acceptable food. We're pretty low maintenance divers.

We could not have been more pleased when we arrived and were checked into our rooms. Captain Don's Habitat is a gorgeous Resort and, much to our liking, not a huge venue. Our deluxe rooms were exactly that. Large rooms with two queen beds, AC, television, small refrigerator, coffee pot, and a gorgeous lanai, complete with a purring Calico Cat whose visits we loved.
From our lanai, we looked out over palm trees and the Ocean's most splendid sunsets. Looking to our right was the large swimming pool and deck area. Just beyond that was the dining area, bar, and an anything-you-need shop.
| | |
| --- | --- |
| | There was no denying the visual appeal of Captain Don's Habit, The Grounds were beautiful, clean, well cared for. The view inevery direction was alluring. A bounty of tropical plants and trees created richly colored gardens. |
| | |
| --- | --- |
| | The pool area, with the ocean bacground , was a particular draw for morning coffe, oost dive plunges, an afternoon novel, or an evening cocktail. A view from the balcony room, bekoe, highlights (left to right) an ocen lounging area, the massage cabana, pool, dining area/bar, and dive area. |
Another group of dive condos is located near the dive shop and pictured below.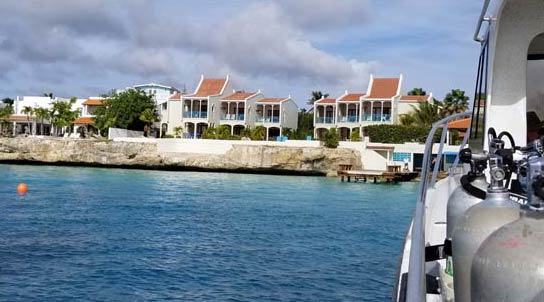 | | |
| --- | --- |
| | |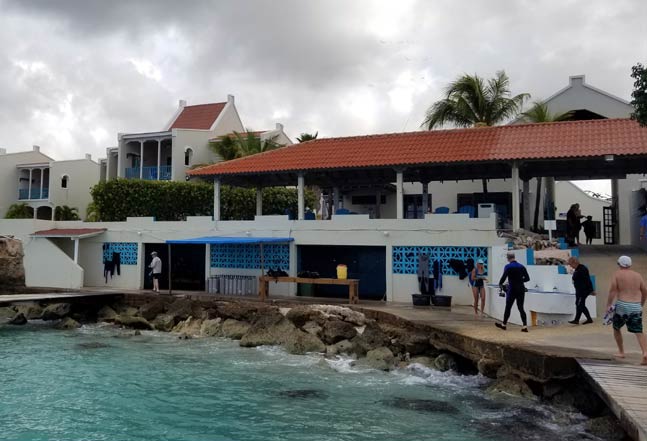 The dive area consists of two levels. The upper level for the Dive Office, Nitrox and air tanks for shore dives and outdoor seating area for orientation and Ocean views. The lower level is outfitted with dive lockers and wetsuit hanging area, gear rinse tanks, benches and platforms for gearing up. (Don't forget to pack a lock for your locker.) The dive operation was well-organized, although the orientation was difficult to hear in the large, outdoor area.
The dive freedom of Captain Don's Habitat was a welcome change from nearby resorts that we had visited previously. The length of dives was determined by politeness to others on the boat, not a rigid time determination. Divers were free to dive at their level of Certification and skill, without need to cluster at the heels of the guide. And Captain Don's Habitat was very serious about protecting the reef; divers were quietly confronted underwater if fins or body parts endangered the reef. Boat dives are available every day. The dives sites are posted on a Dive Board and guests can sign up for the site they are interested in diving, with a maximum number per boat.
House-reef shore dives were available at any time, but there was a need to select and analyze your tanks prior to the tank locker being locked in the evening. The Dive Instructors and Dive Masters were well trained and serious about their jobs, but were also amicable. They expected attention during the dive briefings, as well as adherence to safety requirements on the boat. The single drawback of the dive operation is the system of obtaining air or Nitrox for shore dives, which involved divers hauling and loading multiple tanks to their trucks. A drive-through pick-up system would definitely be an asset. A minor inconvenience, to be sure.

Picture that her is
not available yet
The gorgeous
sunsets we a
devening aily gift
as the activities
of gagthering, dining
or diving began.


December 32018